Alright, who's the wise-guy who is visiting my blog from North Carolina?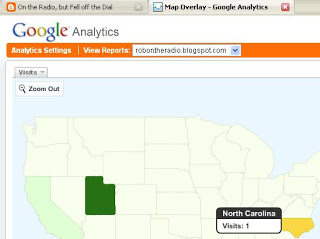 I'm flattered. I don't know anybody who lives there.
For disclosure, I have added Google Analytics to this blog. It does not give me any of your specific information. I felt I should tell you, just in you have something against Google logging your visit.
But if this really does bother you, I suggest you unplug your Ethernet and never visit Google, Facebook, Blogger, (or any web site) ever again.